EULEN Newsroom
Master Thesis Award Winner 2021
Congratulations to Aleksander Rzewuski of the University of Warsaw, who is this year's winner for the Master Thesis Award!
The selection committee were impressed by Aleksander's thesis, 'Impact of 2016 – 2017 changes in acts on fuel reserves on Polish gas market liberalisation during years 2017 – 2020′. At our online roundtable today,  Aleksander gave an enlightening presentation on the topic, and discussed how the gas market liberalisation affected competition and consumer welfare in Poland. We were also happy to (virtually) present the Master Thesis Award to him today at our roundtable.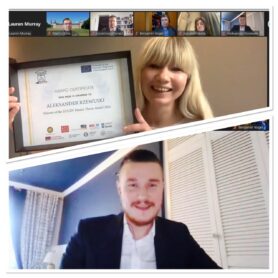 We wish the best of luck to Aleksander and would like to congratulate him on his award once again.
Aleksander will also be contributing a blog post on the subject to the EU Law Enforcement website in the coming weeks.
For more information in relation to our annual Master Thesis Award, please click here.